Last day at Standing Rock.
Grace, Peggy and I woke early to be on time for the sunrise ceremony. Already they were telling people to get up, smudge yourself, offer your tobacco. The Women are getting ready for the Water Ceremony... I join them.
Grace and Peggy prepared the water. I put my pipe together and an elder said, that means you must smoke it now. He sang beautiful pipe loading song. I shared my pipe with everyone in the circle. It stayed lit until the tobacco was gone. Then said the prayer for the water and sang a song.
The ladies lifted the water and shared it with the people. We began to walk to The Cannonball River singing the Water Song in Ojibwe and Lakota. Many joined us…people coming from camp to receive the cups of sacred water…as we sang.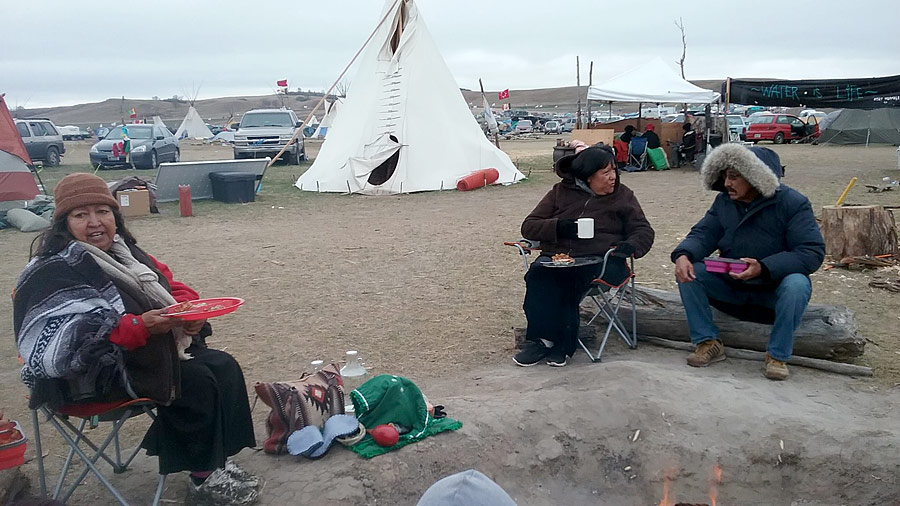 The people shouting out, WATER IS LIFE, Mni Wachoni! So We arrived at the River… The men helping us to the water pier they made us.
Each woman lifted tobacco and some of the Sacred Water that people brought from home. We sang. 
🎶 The men also had time to offer tobacco. One man sang a song from Washington State. The water sparkled, we had love, laughter, and tears. Coming back to camp the women were thanked for praying for the waters.
WATER IS LIFE
Beatrice Menase Kwe Jackson
Ionia, Michigan
Honored by Jode Gaudy
*Honor a WATER PROTECTOR with a poster.  To Give is to Receive!