My STANDING ROCK Story: I stood, on October 27th, with Water Protectors against the most powerful, destructive force on the planet today. I was arrested that day while sitting with about sixty others in a prayer circle. Never did I expect the reaction within me to be so powerful. I had no fear, I was standing up for what I believe in with others who feel the pull to heal the planet as strongly as I do. I was ready for whatever would come, even death. I watched as the peaceful gathering was ascended upon by aggressive riot cops when a water bottle hit the ear blaster tank. Suddenly they began to spray, shoot and jump on the Water Protectors. It was insane and unnecessary violence. We were prepared to be arrested. We were also prepared to be assaulted without provocation.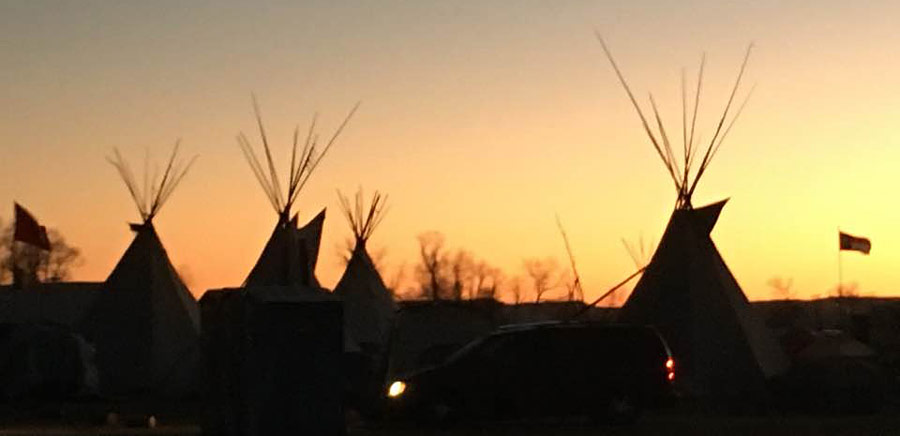 In the jail cell, Red Fawn told us her story and her charge. It was not the story the police were to tell later, I believe Red Fawn.
We watched the mainstream news who featured Standing Rock for over twenty-four hours as Top Story. We cheered as we watched and listened to a balanced account of the day's events. We were loud in that jail cell but no one came to see why we were celebrating.
I learned, on the drive back to camp, that Leonardo DiCaprio had donated one million dollars to our legal defense and bail. I had not been Mirandized, given a phone call, or charged until being bailed out on Saturday evening. I was getting the cough that so many of us had and being pinned into a dog kennel for hours in very little clothing did not help me. I was anxious to retrieve the belongings I had left in the North Camp before the raid. Everything I owned was in giant Ziploc bags in rubber maid tubs so I knew it would be returned to me in good condition. I had seen the DAPL workers heading for the camp while we were sitting alongside the road in handcuffs surrounded by riot cops. Most of my belongings were never returned and those that were had been handled by thieves. One thing that I got back in pristine condition was a white deerskin dress wrapped in a Mexican blanket. It was a miracle.
I spent a lot of time in the Legal tent filling out the required paperwork and on Facebook hill charging my phone. One Native woman turned to me and said, "Mainstream white people are coming." We laughed a little nervously. We needed the support but we knew the camp would be changing. When I arrived it was like stepping back in time before the Europeans came to Turtle Island. We lived in a traditional camp with traditional values and I never wanted to leave, I had found my home.
Betty Lenora
Colorado Springs, Colorado