When I first decided to go to Standing Rock, I had no idea what I was fixing to experience. I met a friend, Tonya Bonitatibus, at Pierre SD. airport and we drove into camp together. We stopped at what I later came to call Signal Hill. It was the highest elevation above the camp and at times it was the only place where I could get a signal strong enough to post my stories and photos. That first look at Ocetti Sakowin camp was quite awe inspiring. It would get much bigger and fully populated before all was said and done. I went to stay a week. 10 days later I left to go home and get more money and supplies because I knew I was going to be there a long time.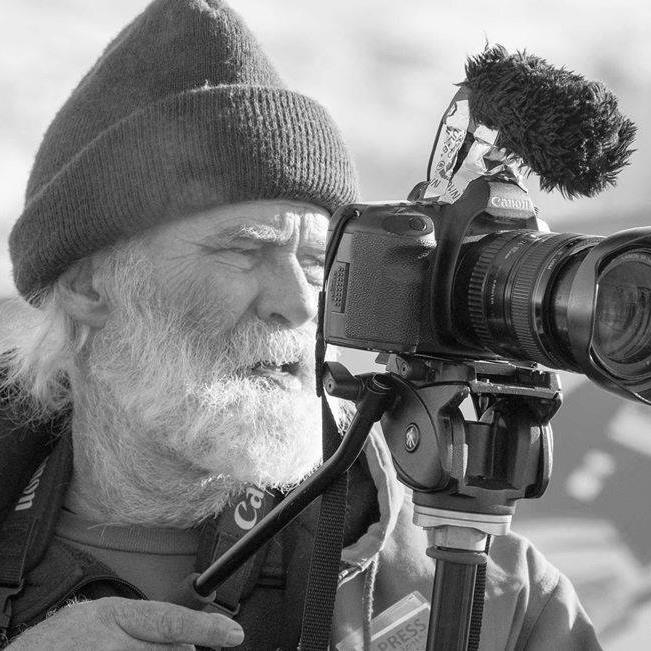 I wound up staying 5 months off and on through the winter. We camped in Sicangu Camp (Rosebud) across the Cannonball River from the main camp. It was quieter and more laid back which better suited my needs as a photojournalist. At night it was so quiet that all I could hear was the sounds of drums and prayer songs wafting across the river. The main camp could get a bit loud at times but I only heard the prayer songs. It was without a doubt, one of the most inspirational times of my life. The early days in the camp were filled with song, dance, and good spiritual fun. As time passed it grew tenser as the DAPL Gang grew more aggressive.
The DAPL Gang is a name I gave the militarized militia that was sent to root us out. They came from many counties, cities and far away states to scoop the overtime pay given to any cop who would come face us down in one of the most uncivilized and violent responses to civil disobedience I have ever witnessed. Still, the camps remained peaceful and calm until the Back Water Bridge attack by the DAPL Gang. The mood and spirit changed that night forever. The cops threw everything they had at us but we remained. Over 300 people were injured, some seriously maimed in one action.
The DAPL Gang grew more and more violent under the Obama Administration. After the Back Water Bridge incident, there were about 5,000 American Veterans that came to stand between peaceful Water Protectors and the DAPL Gang. The government knew we would overtake the bridge and possibly the drill pad itself so they announced that the permit would not be issued! Some took that as a victory. I knew deep in my soul that is was nothing more than whitewash and outright lies. By the time we returned to Ocetti Donald Trump, who had just purchased the presidency sent word to DAPL to keep drilling and he would take care of every penalty issued as well as issue the permit. That action broke a lot of people's will to remain peaceful but in all, I think we did hold ourselves in check until Feb. 02. Chase Iron Eyes decided to set up the "Last Child Camp" across the road from Ocetti .
Unfortunately, it was on property owned by DAPL. When the DAPL Gang came again it was in full battle dress and the National Guard leading the attack. I could see nothing good coming at that point so I left camp in order to get all of my gear to a safe place. Two days later the guard entered Sicangu Camp (Rosebud) and cleared the camp of all inhabitants. When I came to Sicangu I had no idea what I was getting into. After it's all said and done, I would do it all over again in a heartbeat. I was more alive during that period than any time I can remember. Meeting people like Curly and Madonna Eaglehawk and so many true spiritual minded people inspired me to be a better person. The aggressiveness shown by the DAPL Gang inspired me to expose these acts of violence against peaceful people all over the country. What I saw was one of the most criminal acts of retaliation by the oil industry ever. They incited the violence, not the Water Protectors.

My life will never be the same.
John Wathen
Tuscaloosa, Alabama
Honored by: John Chao
*Honor a WATER PROTECTOR with a poster.  To Give is to Receive!